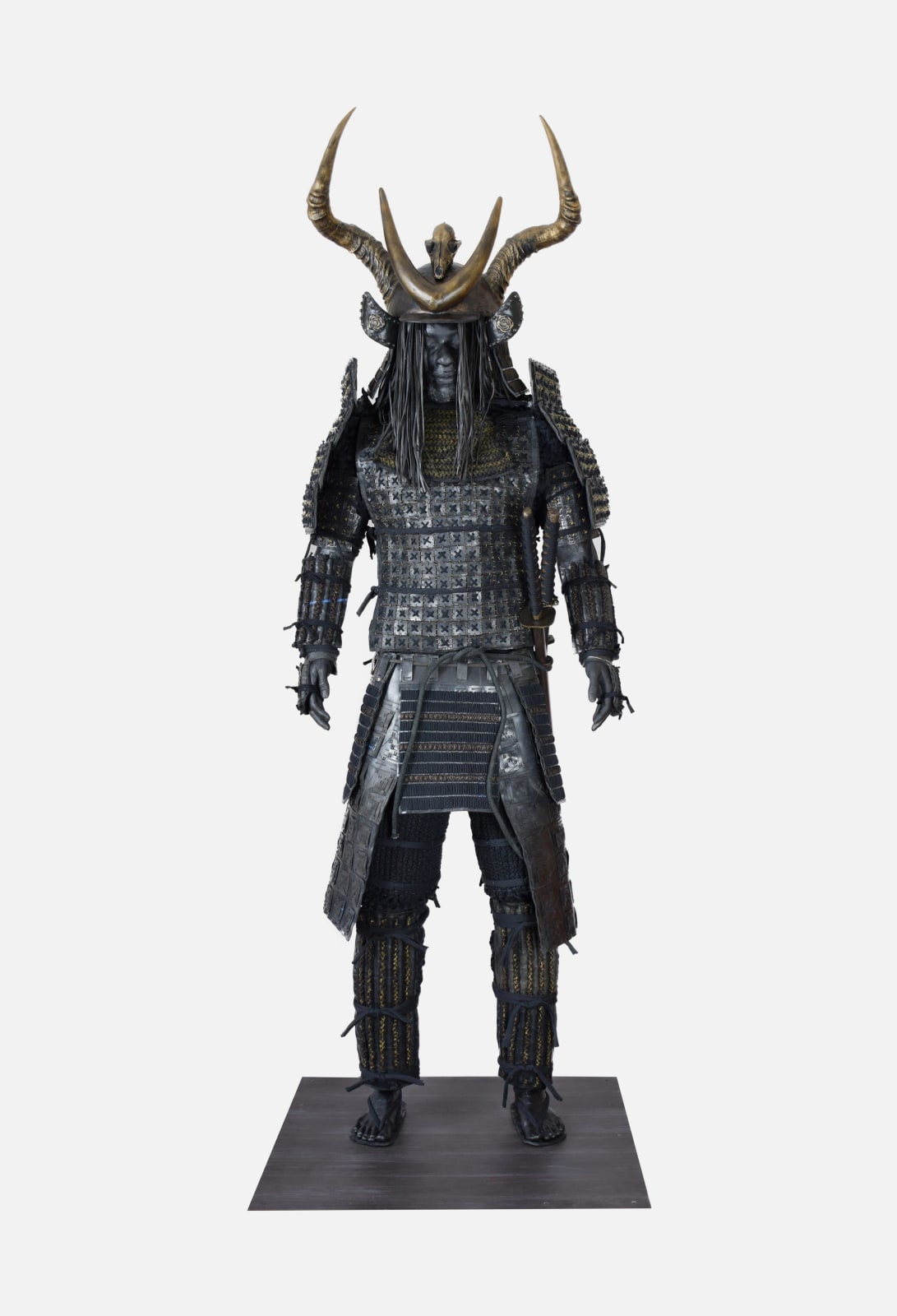 Simchowitz is proud to announce A Taste of Salt, the first solo exhibition of the South African artist Nicola Roos in Los Angeles. Roos is best known for her life-sized figurative sculptures drawn from little-known, but important historical figures. Many stand over 6-feet-tall and are adorned with the armor, warrior masks and katanas (swords) of the Samurai. That gives them an air of extraordinary power and menace, which, despite being rooted in history, can often feel more haunted or phantom-like.
Perhaps it's fitting then, that Roos's first foray into art making was defined by danger and dissent. The year was 2015, while she was a student at the University of Cape Town. Many of her fellow students were protesting for the removal of a Colonial-era statue featuring the likeness of Cecil Rhodes, the British diamond magnate and politician whose likeness was an insult to many Africans. For Roos, the Rhodes Must Fall Movement, along with Pan Africanism, Black Radical Feminism, and institutionalized patriarchy, opened her eyes to the ways in which dominant classes use representation and narratives to control and coerce. From then on she dedicated herself to creating artworks of a different kind. "At the time I was looking for common ancestors," she recalls. "I particularly wanted to recognize individuals from the colonial period who may have influenced the self-perception of post-colonial societies, and to commemorate them rather than condemn them. However, I also recognize the horrific aspects of our collective history as a colonised continent and our collective responsibility towards it."
Her first sculpture was based on Yasuke, whom she first read about in 2015. Yasuke, whose actual name was speculated to be Yasufe, was likely born in East Africa, possibly Mozambique, and lived under indentured servitude and the employment of missionaries and warlords for most of his life. Yasuke encountered a Portuguese Jesuit in 1579, who later brought him to Japan. There, he caught the eye of Oda Nobunaga, a feudal lord who was among the earliest military commanders attempting to unify Japan's provinces. But to do so, Nobunaga had to overthrow several powerful daimyos and their armies. So, after three years, Yasuke was brought into Nobunga's inner circle, making Yasuke the first—and only—black Samurai in 16th century Japan. But Roos is quick to point out that Yasuke's story can't be fully verified (in fact, he may not have been a Samurai at all, rather a bodyguard or sword-bearer). But that makes it all the more fascinating, she says. "I find it intriguing how his narrative evolves," she explains. "Each retelling highlights various aspects, where Yasuke may represent slightly distinct meanings to different individuals, depending on their life experiences, culture and histories."
Roos has made nearly 40 figurative sculptures to date, with at least 30 based on Yasuke alone. Each Yasuke rendition is inspired by a different version, or telling, of the "African Samurai" myth, which allows her to tap into, and express, a collective imagination rather than a singular narrative. From a formal point of view, these interrogative sculptures can be seen in relation to the figurative sculptures of the Hellenistic and Roman eras, with a controlled symmetria which gives them an inner beauty, confidence and awe. But they also reflect a number of conceptual conceits that tend to be more in line with contemporary artists such as Wim Botha and Angus Taylor, fellow contemporary South African sculptors, whom she cites as inspirations. Her interest lies in exploring how certain religious, cultural and historical symbolism has become ingrained in our ancestral DNA, influencing our self-perception in today's post-modern society.
Her choice of material, for instance—recycled rubber from the inner tyre tubes of vehicles—is essential to the reading of her figures. Roos cites the rubber as a reflection of "colonial cruelty", as she describes it, given how merciless African rubber factories were operated under Belgian occupation. Rubber's elasticity can also be seen as a metonym of African resilience and adaptability, which is so strongly associated with the African way of life.
But from a practical point of view, malleable rubber allows Roos to create exceptionally ornate gowns and armour sets, which she sews by hand, and can be best seen draped over her female figures, such as La Virgen (The Saviour) 2017. To date, she has made seven female figures, including two based on a warrior queen from Angola, as well as several versions of "La Malinche." The latter is based on the historical figure of Dona Marina or Malintzin, commonly known as La Malinche, a Nahua woman from the Mexican Gulf Coast who played a significant role in the Spanish conquest of the Aztec Empire. She acted as an interpreter, advisor, and intermediary for the Spanish conquistador Hernán Cortés, the famed conquistador who started the first wave of colonization of the Americas. Dona Marina was regarded as a crucial figure in the Spanish triumph over the Aztecs in Tenochtitlan. This made her a target for blame as society grappled with reconciling the violent history and its impact on Mexican identity for the next five centuries. She is portrayed in diverse settings, being both the infamous infanticidal urban legend of La Llorona, as well as the religious symbol of the Virgin of Guadalupe in the Evangelical faith.
It has been eight years since Rhodes Must Fall, but Roos is still proud to be part of the cultural heritage in South Africa that remains in conversation with the anti-colonialist and anti- oppression uprisings of its past. As she points out, the use of art as a form of resistance is deeply embedded within the African mindset, which continues to inspire her each and every day.
Nicola Roos graduated from the Michaelis School of Fine Art at the University of Cape Town in 2017 with the Michaelis Prize and the Simon Gerson Prize for producing an exceptional body of work. She has exhibited her work in various galleries and fairs in South Africa and abroad. One of her most noteworthy creations is No Man's Land, a compilation of sculptures that contemplate on the far-reaching influences of African diaspora. A few Yasuke sculptures from this collection that have not been showcased previously will be exhibited as a component of A Taste of Salt.